At the heart of "The Big Music beats a love story so secret and quiet it  might be illicit, spanning two generations and exposing the lies and truth of family, truth and belonging.
Presented as a collection of found papers, appendices and notes, The Big Music tells the story of John Sutherland of 'The Grey House' who is dying and creating in the last days of his life a musical composition that will define it. Yet he has little idea of how his tune will echo or play out into the world – and as the book moves inevitably through its themes of death and birth, change and stasis, the sound of his solitary story comes to merge and connect with those around him. In this work of fiction, Kirsty Gunn has created something as real as music or as a dream. Not so much a novel as a place the reader comes to inhabit and to know, The Big Music is a literary work of undeniable originality and power.   (Faber & Faber, 2012)
http://www.amazon.co.uk/The-Big-Music-Kirsty-Gunn/dp/0571282334/ref=sr_1_1?ie=UTF8&qid=1342039680&sr=8-1

Advance Praise for The Big Music:
"More than a dappled tale, an allegory, or history, The Big Music is a landscape; a work of longing fragments that collect on a journey and grow to light lands before, around, and after them. It's a hike that makes us feel not so much Scotland as Scottish, and whose flavours, like the title's theme, cannot be made small. Haunting and spacious."
dbc Pierre, author of  the Man Booker prize winning Vernon God Little
"I emerged from The Big Music blown away by the pulse and force of such fearless writing. It is beautiful, powerful work. Gunn has written to a rhythm and not to a plot – as Virginia Woolf urges – and she has written a landscape I didn't want to leave. Gunn terrain! How deeply I love this book, a magnificent tour de force."
Jane Goldman, General Editor of the Cambridge Edition of the Works of Virginia Woolf.
"Why is it that in the English-speaking world it is nearly always women writers – Virginia Woolf, Ivy Compton-Burnett, Muriel Spark, Rosalind Belben, and now Kirsty Gunn – who understand, as composers have always understood, that we human beings are not solitary individuals facing the world but form part of a larger music, which may be intuited but can never be fully grasped?
A narrative which caught this would remind us more of the Norse Sagas and William Faulkner than of Jane Austen and Anthony Powell. Kirsty Gunn's remarkable novel, which seeks to give voice to the bleak loneliness of the Scottish Highlands by forging a very precise narrative equivalent of the highest form of traditional bagpipe music, does just that. It is a remarkable achievement."
Gabriel Josipovici literary critic and author of The World and the Book
Previous Publications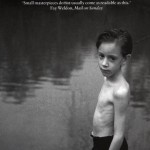 RAIN : A twelve year old girl spends summers at a lake with her parents and little brother. The days are long and hot and while the parents entertain their friends the two children are left alone to play and dream and let the future come down upon them. (Faber & Faber, 1994).
http://www.amazon.co.uk/Rain-Kirsty-Gunn/dp/0571173004/ref=sr_1_5?s=books&ie=UTF8&qid=1342039861&sr=1-5
" Taut, beautifully written; a fresh look at the volatile world of childhood." – Edna O'Brien
" Small masterpieces do not usually come as readable as this." – Faye Weldon
" Part intense reverie, part unbottled confession, this novel guides the reader through its emotional landscape as certainly as its characters move among the labyrinthine waterways." – The New Yorker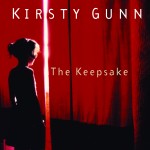 THE KEEPSAKE: In the closed rooms of her own and her mother's childhood, a daughter gradually comes to an understanding of the terrible intimacy of families. Raised on her mother's dreams and stories of happiness with a father she never knew, she must relive and rewrite her mother's tale of abandonment, addiction and desire. (Granta, 1997)
http://www.amazon.co.uk/The-Keepsake-Kirsty-Gunn/dp/1862070482/ref=ntt_at_ep_dpt_2
"Gunn has the originality of a poet. Her dangerous, shifting terrain is the underworld of female desire."     The Times
"Very rarely do books come along that make you gasp with their strangeness and beauty… Reading this book, you will realize you have forgotten to breathe."  Vogue
"A dreamlike mixture…Shot through with jewel-bright imagery." Times Literary Supplement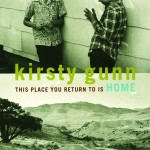 THIS PLACE YOU RETURN TO IS HOME : A mother escapes to a remote country village only to make prisoners of her children; a young man's violence must atone for his loneliness; a wife comes to fear the closeness of her own husband's attentions… Haunted by the past , these stories explore the paradox of home. (Granta, 1999)
http://www.amazon.co.uk/This-Place-You-Return-Home/dp/1862072353/ref=ntt_at_ep_dpt_9
"A haunting debut collection…Weird and remarkably affecting… A small gem." Kirkus Starred Review
"Like Raymond Carver, Gunn sketches scenes from the lives of ordinary, unhappy people with thin but vivid strokes."  Boston Phoenix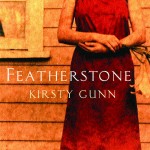 FEATHERSTONE : As we're invited to spend the weekend in Featherstone, a small country town that seems to be like any other, we come to realize there's something about the place that goes deep into the lives of the people who live there. (Faber & Faber, 2003)
http://www.amazon.co.uk/Featherstone-Kirsty-Gunn/dp/0571212522/ref=ntt_at_ep_dpt_5
"A parable of home and away, darkness and light…Featherstone sparkles like a shard of glass and cuts as deeply." Jayne Anne Phillips
" A novel that explores loneliness, failure and personal hurt with an uncompromising integrity."  The Scotsman
"Extraordinarily written, Gunn gives all of Featherstone a sense of being beautifully distinctive, eerily alive."  New York Times
THE BOY AND THE SEA  At the start of a summer's day, Ward is waiting on the beach. There'll be a party later; girls will be there and the promise of the future. But for now, as the sun moves towards its highest point, the tide changes and Ward is faced with a dramatic event that will change his life forever.(Faber & Faber, 2006)
http://www.amazon.co.uk/The-Boy-Sea-Kirsty-Gunn/dp/0571230199/ref=ntt_at_ep_dpt_1
"A novel about masculinity that, unlike Hemingway, bypasses the macho." Guardian.
"Beautiful, short and intense…A timeless sensuous quality… Suffused with the feel of summer's long gone." The Scotsman
"It is marvelous…The suspense is wonderfully managed – and the writing is magic. I felt joy at every word."  John Carey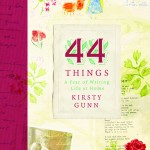 44 THINGS(: "On the night of my forty-fourth birthday we went, my husband and I, with our two little girls, to the Brasserie at Brompton Cross. 'When are you going to get back to writing that novel' my husband asked me – and I put down my knife and fork." Celebrating home and family, "44 things" tracks the moments and reflections captured in the midst of domestic life – in short stories, essays and letters and a new kind of writing that, while it may not be like taking on a large, uninterrupted  literary project, is no less significant. (Atlantic Books, 2007)
http://www.amazon.co.uk/44-Things-My-Year-Home/dp/1843545527/ref=sr_1_1?ie=UTF8&qid=1342040215&sr=8-1
"The quotidian is mediated by imagination and rendered into art."  Scottish Review of Books
"Her writing is spare and incredibly beautiful." Good Housekeeping
"I adore this book and want to buy it for every woman I know… A lovely hymn to one woman's ordinary life."  Eve